Instructions for installation and use
The Swissflow patented technology can be used in many ways and easily customized for various purposes. While simple to use and install, before putting a SwissFlow flow-meter into operation, please note the following:
1- Hose discharges may not be subjected to pressure when the flow-meter is put into operation.

2- Medium-supply lines must be thoroughly cleaned before use.

3- Use of a 20 μm (Micron) pre-filter is recommended.

4- Slid particles or contamination in the medium may damage the flow-meter and/or influence the measurement results.

5- IMPORTANT: WATCH ARROW ON FLOW-METER TO INSTALL IT IN CORRECT FLOW DIRECTION.

6- Once the flow-meter has been installed, the system should be filled slowly, to avoid air damaging the rotor.

7- Hook up electronic connector to the flow-meter. Make sure that the electrical connections have been hooked up as indicated on this diagram.

8- Make sure electronic connector is not coming into contact with liquids. This may influence measuring results negatively.

9- Remember to remain within the minimum and maximum flow-rate limits as indicated. Avoid any UNCONTROLLED AIR PRESSURE through the flow-meter. High bars at the beginning which results in more than 38.000 rotations per second of the rotor will DESTROY rotor blades.

10- The measurement principle is based on volume measurement; air in water, for example, counts as a medium.
Once the flow-meter has been installed in accordance with these directions, a smooth operation is guaranteed.
Our Products in Action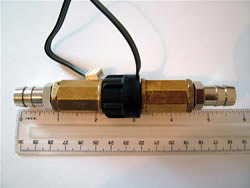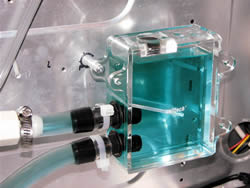 Order the SF800 Online: